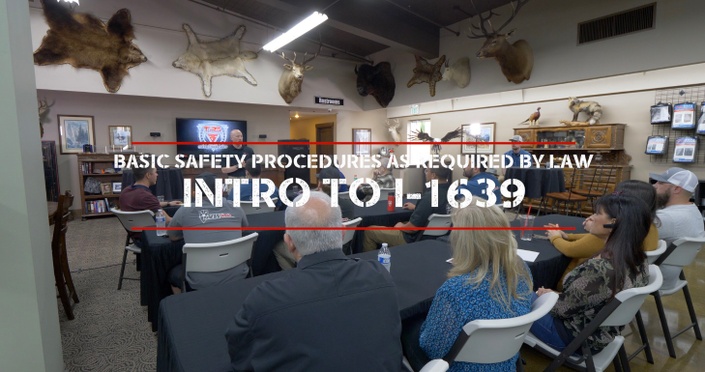 Firearm Safety Training Course for WA State I-1639 Requirements; Training for Gun Safety & Storage Law, Semi-automatic Assault Rifles w/ NWSafe
🎬 Get Your Firearm Training Certificate in under 60 Minutes: Taught by Law Enforcement - Certificate Instantly Delivered - Required to Buy a Semi-Auto Rifle
Watch Promo
Get your I-1639 Firearm Safety certificate from TRS, a fully licensed, qualified firearm safety training agency. Threat Resolution Science (TRS) will walk you through, concisely, and carefully teach everything you need to know to meet WA State's new I-1639 law. With this certificate you as a WA State resident fulfill the requirement to be "certified" when purchasing a semi-automatic rifle. You will receive this training certificate immediately upon successful completion of this course.
When you successfully complete this course you will get your certificate, which is needed to purchase a semi-automatic rifle in WA State. Among many things, you will learn:
New law FAQs: Things you need to do to comply with I-1639
Safe storage: what will happen if I don't secure my firearms?
Police intervention: Can police actually come to my home to see if my storage is in compliance?
Gun safety basics: Essential firearm handling rules
Kids & guns: Tips & tricks for teaching kids about firearms
Anti-suicide teaching: Suicide prevention methods and signs
Sign up today and get I-1639 certified.
Your Instructor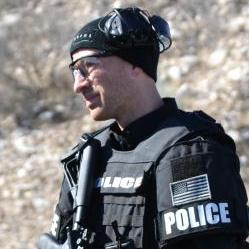 Tyler Christian began his career in law enforcement in 2002, and spent 9 years assigned to one of the most active SWAT teams in Washington State. Throughout his law enforcement career Tyler has found that most violence and crime is completely avoidable. He has also learned, through experience, that many of the techniques and theories that he initially learned in traditional martial arts only work in the dojo. After finding himself too many times on the responsive end of conflict, Tyler recognized that teaching people to be their own body guard would not only be a life-saving technique, but a proactive measure in recognizing and avoiding potentially life-threatening situations.
Law Enforcement Experience
After graduating from the Washington State Criminal Justice Training Center in 2002, Tyler was assigned to the patrol division where he began to apply his martial arts and self-defense training to real world encounters. Tyler was selected as a member of the SWAT team in 2005, where he excelled and was eventually appointed as an Assistant Team Leader. During his time on SWAT he gained thousands of hours of training and experience in high-risk operations. He was one of the lead firearms instructors for the team and gained valuable experience conducting training in several areas, to include: firearms, high-risk entry, tubular and vehicle assaults, and combatives. During his tenure on SWAT, Tyler responded to over 300 missions. He has also spent 5 years working in his departments Special Investigations Unit where all the work is done in plain clothes. This usually involves covert surveillance, counter surveillance, conducting plain clothes narcotics operations, seeking out violent felons for capture and anything in between. This type of work has given him crucial experience in criminal behavioral analysis and the importance of constantly being prepared for sudden violence. In 2012 he was promoted to the rank of Sergeant. As a Sergeant, Tyler has been able to share his expertise in officer safety, firearms, and tactics with the patrol officers he supervises, and has successfully managed several high-risk incidents.
Combatives Experience
Tyler began his martial arts training in 1999. While he appreciates the traditional styles, his law enforcement career and real world application has taught him that more practical and intuitive skills are necessary for combating real world violence. Tyler continues to pursue training methodologies that translate to violence most commonly found on the street. He has spent countless hours studying the psychology and the body's physiological response to violence that resonate and directly translate to the types often seen in real world encounters. As an instructor, Tyler's passion is making the information useful and relevant to those with whom he trains and their everyday situations.
Weapons Experience
Tyler holds numerous instructor certifications ranging from handgun, rifle, sub-machine gun, knife, and active shooter. From 2002 to 2006 he was heavily involved in IDPA competition and was the 2004-2005 Washington State Champion. Tyler also serves as the department's Range Master and lead firearms instructor. In this role, he has brought major change to the departments firearms program and training other officers to more effectively use their weapons in lethal force encounters. On his perpetual quest for self-improvement, Tyler continually pushes his own boundaries and strives to help others realize their own potential.
Course Curriculum
1. Intro & Qualifications
Available in days
days after you enroll
2. I-1639 Basics: What does the new law say?
Available in days
days after you enroll
3. Semi-Automatic Guns + New Enhanced Background Check Requirements
Available in days
days after you enroll
Frequently Asked Questions
How long is the course?
Less than 60 minutes.
What "rating" is this course? Would children find it informative?
The course is designed for adult audiences. Children are not recommended. Additionally we always recommend that individuals obtain training beyond what is covered in this basics course, however what you will get from this course is the essential knowledge required by I-1639. You will receive a certificate to verify this knowledge.
How long is my certificate good for?
5 years. At that point you are welcome to re-take the course and re-obtain your certificate, however 5 years is a long time and most likely WA lawmakers will change their requirements.
How much reading is in this course?
Virtually no reading, except for a short quiz here and there. The lectures are 100% video curriculum. - HINT: When viewed on most browsers (e.g. Chrome), there is the option to watch the lectures at x2 speed. So if you're a quick learner, you will fly through this course in record time.